Spain and France:
Nice, Monaco, Cannes,
Barcelona, Madrid and Granada.

Marty and I at the Cafe Zurich in Barcelona, Spain.

October 13, 1991

&nbsp&nbsp&nbsp&nbsp&nbsp Marty, John, and myself traveled on the overnight train from Milan to Nice. Marty and I were in a crowded couchette with unbelievably stagnant air. Some man was snoring in our couchette so loudly in a deep baritone that even the French whistled (the French do that when they are mad) so that he would wake up and stop snoring. In the morning, I found out that this "man" was a pleasant old lady! Just as we were getting comfortable in the dark of the couchette Marty sqeaks out this tiny elongated fart. The couchette was so small that I could reach out and touch all of the other five persons in the car. Of course, everyone heard it in the dark and silence and I was embarrased and more than a little peeved. I could hear Marty over on his bunk laughing.

&nbsp&nbsp&nbsp&nbsp&nbsp The Cote d'Azur is beautiful. It is a mellow deep blue Mediterranean Sea bordered by dramatic cliffs with small communities wedged in between. The sites and situations of the French Riviera clash heavily with that of the rest of Paris - yet it is the same country and language. It is so nice to finally be out of Italy and, thankfully, Milan has two things in abundance which were scarce in Italy: cheap and convenient accommodations and laundromats. It is also nice also to be in a culture which I understand better and a language which I speak (plus ou moins). For some reason, I understand the French here much better. I think they speak slower. At any rate, things are much cleaner here. French society is organized so much better than the Italian.

&nbsp&nbsp&nbsp&nbsp&nbsp We are staying in a large, clean, and cheap budget hotel that, in summer, supposedly resembles a fraternity house with all the young American tourists. It is now a bit in the off season and the hotel and the area in general is quiet. We will be staying in Nice and taking day trips to Monaco and Cannes. Nice is the largest city in the area and reminds me of California. When I first arrived here and saw the bright sun shining I felt touched to the quick and felt the strong pull of the beach as a native Southern Californian. The beaches here are topless (except for the American women) and that is no bad thing. Let me just say that I have seen some awesome sights. There were some American female college students near us with their tops on and compared to the French women they looked provincial, artificial, cramped, and unfeminine.

&nbsp&nbsp&nbsp&nbsp&nbsp Marty was being sociable with an American lady from Zurich and her mother. It seems that one can tell the natives from the foreigners by whether they are wearing a top or not and with the men whether they are wearing cloth shorts or speedos. In my opinion, the completely natural and unaffected manner in which these beautiful French women go topless on the beach is a powerful statement of feminine beauty. In retrospect, women going topless on the blistering hot beach at high noon seems completely natural where going naked does not. Even the grandmas go topless and, while they are living examples of the effects of long-term gravity on the body, it is no big deal. Marty stared so incessantly at this one well-endowed lady that her husband took offense.

&nbsp&nbsp&nbsp&nbsp&nbsp The Cote d'Azur is the tourist playground for the international rich and the French in general. This has supposedly spoiled a pristine environs with hotels and accommodations but the scene is still great. There is an air of beach relaxation and informality and eccentric material indulgence that belies the wealth of the inhabitants: Harley Davidsons, strange jeeps, etc. - the playthings of the rich and famous. It reminds me for all the world of Beverley Hills. The surf is gentle and the beach is rocky. Everything is brighter here than at the California beaches. The water is a deep blue and the hills are a light beige.

&nbsp&nbsp&nbsp&nbsp&nbsp Monaco is a (sort of) sovereign state. In reality, it is an anachronism of cramped wealth and luxury. Checkov once called it a "cramped watercloset." A few miles east on the coast from Nice, Monaco exists in a crevice between two mountains that form a crowded harbor. On one mountain sits the Royal Palace and on the other the famous Casino and the expensive hotels.

&nbsp&nbsp&nbsp&nbsp&nbsp The Palace has a gorgeous view of the Mediterranean and it's governmental function is readily apparent. 18th century cannon ring the hill/fortress and command the harbor. Ceremonial soldiers with M-16 rifles stand at the entrance of the Palace and we even saw the formal changing of the guard. There is much aristocratic grandeur to this location with Prince Rainier, Princess Grace and Stephanie, etc. Princess Stephanie is all over the French tabloids and seems the French counterpart to Princess Diana as a sort of national symbolic royalty. In short, Monaco is the creation of the "old" European money and society and the jet set lives of the filthy rich.

&nbsp&nbsp&nbsp&nbsp&nbsp We visited the Casino on the other hill and I was a little offended by the ostentatiousness of the conspicuous consumption. But still as much as at "The Vintage" in Palm Desert. We were not even able to make it all the way into the gambling rooms because of the hefty cover charges. I guess that is the way to keep all the riff-raff like myself out. Still, I was able to see enough to recognize that it was very different from Las Vegas. Everyone was very dressed up and it was very quiet as if something formal and serious were happening. The wood was very dark and gold leaf decorated the walls and ceiling. We spent a total of about three hours in Monaco and saw about everything one would want to see.

&nbsp&nbsp&nbsp&nbsp&nbsp We went to the police station in Monaco where Marty exchanged patches with the station officer. He has been doing this all over Europe and it has been fun. The patch trading process is obviously a well established one and we have had no problem communicating our intentions. Indeed we have had a good reception and the California police patches are a bonafide success over here. Furthermore, there is a police camaraderie which provides for instant acknowledgement and acceptance. The local cops just kind of yell to their buddies, "Cops from the States.", and all the others shale their heads in understanding. I spoke with one cop of approximately my own age in Monaco (in French) and looked him in the eye and said with a grin, "Cops are cops." He smiled and replied, "The same family." Unable to find a spare patch, a German cop in Munich left the room, tore the patch off his own uniform, returned and gave us the patch!

October 14, 1991

&nbsp&nbsp&nbsp&nbsp&nbsp Today, we traveled from Nice to Marseilles and tomorrow we leave France for Barcelona and Spain. We did laundry in Nice (whew!) and hung out at the laundromat with an young American couple from Boston University who were also doing laundry. It rained hard yesterday and all they did was stay inside and drink wine. They had just recently met up after a long separation and they stayed in all day and listened to the rain and made love. And that certainly does not sound like a bad way to kill a rainy day to me!

&nbsp&nbsp&nbsp&nbsp&nbsp Marseilles is a big port city which is not particularly attractive in any conventional ascetic way. There is a definite reason why there are no other tourists here and Marty thinks that one day is too long to stay here. I wanted to see the city because of Dumas and the Count of Monte Cristo, as well as for the French mafia and the crusty port types. Towards this end, I was more than satisfied. The city is a potpourri of nationalities and the main street ("Cannebiere") evokes images of sailors on leave, barbican districts similar to Plymouth, etc. The North African area was the most interesting and one felt as if one were in Algiers, with all the appropriate smells, sounds, and peoples. The area is supposedly dangerous but I did not feel threatened. Marseilles has a violent reputation, but I found it just kind of boring after dark. There were a lot of strange types hanging around, though.

&nbsp&nbsp&nbsp&nbsp&nbsp Tomorrow, we leave France and it saddens me that we will not be back. I liked the language and being able to speak it. I will especially miss the croissants and they just do not taste the same outside of France. I will also miss the relaxed pace and sophisticated manner of hanging out in cafes and talking for hours. Finally, I will miss the beautiful French women.

&nbsp&nbsp&nbsp&nbsp&nbsp I don't know why the women strike me as so beautiful here compared to other countries. I think it has something to do with just looking well put together fashion wise. Also, they generally have the slender features and feminine facial features. The long legs, thin hips, small breasts and unbelievable asses attract me greatly.

&nbsp&nbsp&nbsp&nbsp&nbsp French social life is unique. They do not generally party hard and do not drink to get drunk like the English speaking peoples do. But on the other hand they are drinking wine all the time. I do not remember meeting one French person at Oktoberfest, for example. The French hang out in groups where everyone knows each other and hold "witty" conversation for hours through an almost impenetrable cloud of cigarette smoke. Although not rude, these groups are private and people do not go out of their way to meet other people, as happens in English or Irish pubs. They look at tourists and foreigners as "other." It seems that French social life is a real insider's deal, with different rules. French women kiss anyone with practiced indifference on the cheek but kissing on the lips is a big giant deal.

&nbsp&nbsp&nbsp&nbsp&nbsp All throughout Europe, men are supposedly much more what Americans call "male prejudiced." All the way from construction workers jeering at passing women (I saw this more than once) to business executives making passes at female subordinates. It would seem "sexual harassment" is standard operating procedure here. Americans try to make sex relations in the office neuter and something to be suppressed as dangerous and unprofessional, but I am told that in Europe people are much more resigned to letting nature take it's course. The American women friend of John Francis whom we had dinner with in Lugano had trouble getting a job in Europe because she was married and everyone thought she was unreliable because she was married and supposedly subject to her husband's professional whims - moving, parties, etc. And all this despite the fact that she had an excellent experience and references and an MBA! I have also been assured that her senior position or responsibilities will not stand in the way of a male executive making a play for her. I don't know what to think myself. Such unprofessionalism is clearly wrong but the Cold War atmosphere between the sexes back in the States is equally, if not more, annoying. I would hate to have to make a choice between the two. Most women in the States have a martyr syndrome and look at you as cat looks at a dog, expecting you to pull a judo throw on them or something. "You just want to fuck me, don't you!" Well excuse me!

&nbsp&nbsp&nbsp&nbsp&nbsp The Anita Hill-Clarence Thomas sexual harassment issue that is dominating the States as I write is a good example. The issue is dynamite and emotionally divisive in the States, with justice, prejudice, victim, etc., being bandied around by enraged persons. In Europe, they are laughing incredulously and writing in the newspapers that those prude Americans are at it again crucifying their public officials. They say, "So he made a pass at her. So what - judges have sex, too." Americans are so sure that they are right and so eager to do the right thing and be the nice guy. We Americans think we are on the cutting edge of things and are "progressively" moving towards a place where women and men will be more equal and then more amicable. There is a lot of pure speculation in that prediction. Perhaps the European way is better. Men and women seem to get along much better here and is that not the bottom line? Back in the States everyone is too busy doing ideological battle and nursing their grievances like spoiled toddlers. I read the newspapers here in reference to the Anita Hill affair and I cannot believe what I am reading! It it puts me in a bad spell for at least the next hour or two and Marty has to put up me yelling and tearing at my hair. It reminds me of the Great Santini reading his newspaper in the morning and then looking skyward and asking loudly, "God! God! Why did you put so many assholes in this world!!!"

&nbsp&nbsp&nbsp&nbsp&nbsp I think in some was regarding social interaction, the French are right in looking down on Americans. Certainly, they have elevated eating into an art form consisting of many courses of excellent food and conversation which goes on for hours. In contrast, we Americans are a fairly laconic and insular people who rarely spend much time outside of the office or away from the home after work. The French are witty, urbane, refined, clever, and seem to enjoy life and their fellow man more than we do. However, they can lack candor and have the penchant for style over substance. After eavesdropping on many a conversation of young people in the cafes, I felt like they talked for so long and ended up saying nothing. In my opinion, most people who talk non-stop have nothing to say. The conversation may be effete and vapid but it is most surely a vapidly clever one. Furthermore, the world-weary act can get a little thin. The worst thing that could ever happen to a French person is that they could look silly or awkward. I think they would prefer to be cruel or vicious than ridiculous. I think the highest honor can come to a person who can use satire and biting wit to insult and humiliate an adversary in some pleasant and "civilized" salon. Remember the credo of Voltaire, who embodied so many French ideals and lies buried beneath the Pantheon with the other French national heroes: "I have asked God for only one thing in my life and that is that he should make people laugh at my enemies. And he did." Yet my experience is limited to Paris and I am told that things change drastically when one exits the metropolis and enters the countryside.

&nbsp&nbsp&nbsp&nbsp&nbsp How strange that the French and Germans are neighbors and still have so little in common. The French are loquacious and smooth as silk in the rococo style. The Germans have a certain coarseness and a determined and serious earnestness. It is even reflected in the languages; French is smooth and flows along like a river while German is guttural and heavy. It seems to me that the French are best when observing and commenting on life where the Germans are peerless when trying to define what is human and where meaning exists in life. Voltaire, Flaubert, Stendahl, and Proust are all examples of the highly polished - nigh flawless prose of France. And Martin Luther, Kant, Hegel, Nietzche, and Marx all embody the German genius in speaking to the metaphysical. Still, Rousseau and Sartre were French while Goethe and Heine were German, and they defy my generalization.

October 18, 1991

&nbsp&nbsp&nbsp&nbsp&nbsp We have been in Spain for three says and have been having an absolutely great time. Spain (Barcelona, in particular) is extremely lively, and we have been dancing the night away. Each night we have ended up getting home around five in the morning sweaty, drunk, and exhausted. We sleep all day and unfortunately have missed some of the sights. Marty speaks Spanish fluently and this is an enormous boon to our efforts. Marty does the speaking in Spain and I do the talking in France and between the two of us we do not do all that badly.

&nbsp&nbsp&nbsp&nbsp&nbsp The chill of Franco's rule ended in the mid-70's and Spain's isolation from the rest of Europe went with him. Today, Spanish society is exuberant, modern and forward looking. The nightlife is unbelievable - starting at 8 P.M. or so and lasting literally until dawn. The "chic" do not go out dancing before 1 A.M. and if you arrived at a dance club at midnight you would be one of the first people in the place.

&nbsp&nbsp&nbsp&nbsp&nbsp Spain is somewhat physically isolated from the rest of Europe. It is a bit out of the way and when the train enters from France it is necessary to switch trains because the tracks are of a wider gauge in Spain than in the rest of Europe. But since the end of Franco, Spain has more or less joined the world with democratic elections and membership in the EC and NATO. The trains pretty much suck, the standard of living is a little lower but things also cost less (which is nice) and it is not bad. In the Geib family tradition, I have read much about Spanish history in the time of the tragic Civil War (1936-1939) which was my father's senior thesis at Harvard. So far, I have not seen one sign from the war, monument or otherwise.

&nbsp&nbsp&nbsp&nbsp&nbsp Marty and I like Barcelona so much we had trouble leaving, staying a day longer than we had planned. The area is semi-arid, and brown like Southern Italy and Southern California. There are more than a few similarities to Italy: laundry hanging everywhere, dark skinned peoples, gypsies, run down buildings, poverty. Although it is said that Catholicism is strong, so far thankfully it is not so much in evidence as in Italy. The Spanish youth, especially, seem to be free from the deadening hand of traditionalism and superstition. Their ebullient spirit reminds me of the youth of Ireland. Although, admittedly I only visit the big cities it seems as if it is possible to obtain a glimpse at the national mood. Spain is clearly on the periphery of Europe and what it lacks in super-sophistication and high-gloss polish it more than makes up for in energy.

&nbsp&nbsp&nbsp&nbsp&nbsp Barcelona is clearly a city with a bright future. Construction for the Olympics is underway everywhere, and the world will turn it's attention towards Barcelona next summer for the Olympic games. Barcelona is the premier city off Catalonia. Catalonia has a distinct culture and language which was suppressed by Franco but which now flourishes. Catalan seems to be a mixture of French and Spanish. Barcelona has a little bit of an attitude; politically independent and "sophisticated" and culturally thinking of themselves as more "refined" and "European" than the rest of Spain. Barcelona was an anarchist/Republican haven during the war and I enjoyed seeing the actual streets described by Orwell in the Republican infighting in Homage to Catalonia. Barcelona is still a little rebellious and there is an extremist element desirous of Catalonian succession from Spain. Barcelona is supposedly politically "savvy," ie. progressive.

&nbsp&nbsp&nbsp&nbsp&nbsp We are trying to move into the Spanish hours. This means late, late nights supplemented by long siestas. Dinner at 10 P.M. followed by a drink at midnight and then dancing until dawn. The discos rage all night with intensity and it is a enthusiastic crowd. There are also some of the geekiest, hick-like guys. They totally remind me of the "swinging Czechoslovakian brothers" on Saturday Night Live. Not like I am a great dancer or anything but these guys are comically spastic and crudely aggressive (like Italian men) to boot. The music was uneven to a strange degree ranging from cutting edge dance music to AC/DC and The Ramones (?!?). A lot of the dance music was eminently undanceable.

&nbsp&nbsp&nbsp&nbsp&nbsp It seems Spain emerged from the stupor of Franco with enormous pent up energies. There is an element of this which finds an expression in vice - pornography everywhere, prostitution, etc. But I have been told that things are settling down. There is a rough element to Spain and it seems that the streets here are a little more dangerous than in the other parts of Europe. Barcelona, is a port city, and there are some areas in the Gotti Barri area (the old section of town) that are dark and dangerous. Marty observed an old man get mugged here.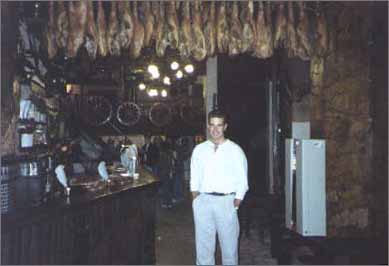 &nbsp&nbsp&nbsp&nbsp&nbsp Our first night here, Marty met a Spanish couple - Ramiro and Carmen - in "The Cafe Zurich" on the Ramblas and we soon became fast friends. We spent the next three nights partying together and were shown all the local bars and clubs. Most interesting, we visited many hidden away wine cellar style sangria bars with everyhting consisting of old, dark wood. I was able to get a lot of first hand information about gypsies, the Civil War, traditonal vs. modern struggle, Spanish language. Ramiro is from Venezuela and while Carmen is a local they both work at the Hilton Hotel in Barcelona. Carmen has lived in Los Angeles and speaks excellent English while Ramiro is actively taking English classes. In fact, when we first met him he had his English books with him and had just finished class. Still, with Marty and them much of the conversation is in Spanish. We are busy teaching Ramiro some of the more important English slang words, in particular those concerned with making obscene drinking toasts. Ramiro is a heavy metal music fan and is consequently learning English via the polished English of Metallica.

&nbsp&nbsp&nbsp&nbsp&nbsp We did not see many of the sites in Barcelona because we slept almost all day. However, we did see the Montjuic area where the Olympics will be held as well as the beautiful gardens and castle located there. We lived and spent most of our time in the Ramblas and Goti Barri area. The narrow old streets are enchanting and one gets a feel for the history of Spain. There is also a lot of crime in the area, even violent crime, and that is something that I have not really felt in Europe yet. It reminds me of Los Angeles. We also saw an old lady being tended to by paramedics after being mugged and falling down.

&nbsp&nbsp&nbsp&nbsp&nbsp The Spanish women are absolutely beautiful and fun to be with. They are not as dark as the Latin Americans but have a sallow skin with often blond or even red hair. They resemble Italian women but are slimmer in their features. I am completely captivated. One night at a disco, I met a Spanish women who was the very definition of Spanish beauty: brilliant black hair, pale skin, dramatic features. Her English was extremely poor as is my Spanish so we spoke in French, which sets the perfect mood for romantic conversation. She was a goddess and we got along quite well both verbally and physically. We made a date to meet again the next night but, alas, she never showed up.

&nbsp&nbsp&nbsp&nbsp&nbsp One night we hung out with some American girls and the difference between them and the Spanish girls we were with later was both obvious and immense. After the Spanish, they seem so self-conscious, and I had the same feeling as I did on the beaches of Southern France. I was almost ashamed for them. American women are high maintenance.

&nbsp&nbsp&nbsp&nbsp&nbsp For awhile, Marty and I were planning a trip to Tangier, Morocco and Gibraltar. I was excited to go to a Muslim country and to see a really different country and society. But, the ferry costs and the time involved proved prohibitive.

&nbsp&nbsp&nbsp&nbsp&nbsp It has turned out that, while fluent in Spanish, Marty still has trouble understanding the dialect here in Spain. Still, I am sure that Marty's Spanish gets us better service in restaurants and pensions. Furthermore, Spanish people talk about us thinking that the dumb Americans do not understand what they are talking about. Marty caught some women at a pastry store discussing in our presence how they liked my face or Marty's body, or vice versa, he was not sure. People are most candid in these situations, I have noticed - rating your looks, strange and colorful athletic shoes, Americaness, etc. I stand out here with my relatively fair features and height and Marty, as a black man, is a virtual novelty. Sometimes I am amused by people looking at Marty and I like we were from Mars. Other times, it grates on me. Especially, when someone is making a joke at your expense and you already feel out of place. Giggly school girls can be especially humiliating.

&nbsp&nbsp&nbsp&nbsp&nbsp When I first arrived in Europe I was defensive about being American and I tried to keep a low profile and blend in as much as I could. I now realize that is nigh impossible and now I act less self-consciously and try to enjoy myself in a discreet manner. And if someone has a problem with me simply because I am a tourist or an American, well, they can go fuck themselves.

October 20, 1991

&nbsp&nbsp&nbsp&nbsp&nbsp We have been in Madrid for two days and three nights. Madrid is much more crowded than Barcelona. There is an element of harshness to Madrid that is lacking in the more "European" Barcelona. I also feel as if I am more truly in Spain now. Even with my limited Spanish, I can understand the billboards and street signs better now that the confusing Catalan is gone. The people are also more ebullient and have darker skin more akin to what one would see in Mexico. Everywhere there are throngs of people, cars - all assaulting the senses. Also, the buildings are all somewhat older and decaying. Madrid has the feel and size of the capital city of a nation where Barcelona does not. Madrid has some boulevards with palaces, museums and parks which confers upon it a grandeur similar to that of Paris. And this is Madrid at its best. But Madrid reminds me more than a little of New York and there are some truly shitty areas and violent crime and drugs. In my opinion, it is the frenetic pace which gives Madrid it's cruel feel and I suspect that Madrid would be an unforgiving place in which to live. Still, I feel more now like I am in the dramatic Spain of Hemingway.

&nbsp&nbsp&nbsp&nbsp&nbsp We witnessed a street demonstration against drugs, abortion, crime, etc. There still seems to be a very conservative element to this country. The political divisions of the Civil War also seem to exist to some degree. The "Salamanca" area is still the most "facha" (fascist) area. The Cafe Commercial (where we had a beer) was the old hangout of Republican aviators and soldiers during the war which Hemingway used to visit. During the dictatorship there used to be anti-Franco demonstrations there and today it still has that leftist bent and is filled with the progressive and artistic pseudo-intellectual crowd. At first glance, the Spanish authors, painters and other artists in this cafe seemed just as affected, pretentious and vain as they are in other countries. There were many gorgeous women in this stylistic and avante garde crowd. I fell in love at least a handful of times.

&nbsp&nbsp&nbsp&nbsp&nbsp Madrid's nightlife is absolutely crazy. The areas with bars are simply overun with partyers and the multitudes overflow from the clubs out into the street. The average age of these people is young, though, around 19 or 20 years of age, I guess. I think that is because people start partying at an early age here and then also grow out of that stage earlier. I met people my own age, but they went out dancing and drinking infrequently and were more specialized in where they went. Like in Barcelona, the party starts around 10 or 11 P.M. with a beer in a bar followed a couple hours later by dancing until dawn and then a snack before home and finally sleep. The scene is quirky and fun if not as polished and slick as elsewhere. The Spanish get a solid "A" for effort and finesse.

&nbsp&nbsp&nbsp&nbsp&nbsp Marty and I had dinner with a pair of American girls from Kentucky and Alabama respectively. The meal was an excellent garlic chicken and the girls made good conversation. Spanish food is tasty, if a bit salty, garlicky and fried. We ate directly across from the Palace Real in a homely family run restaurant. Comic relief was provided by a little girl who, in response to friendly waves or smiles, would flip you the bird. I laughed so hard that I almost choked on a chicken bone.

&nbsp&nbsp&nbsp&nbsp&nbsp I thought that we had done about enough partying for one trip in Barcelona and I did not dress up or anything; I figured maybe two beers and goodnight. Wrong. We met another two American girls at a bar and drank beer and conversed until 3 A.M. Next, we followed a group of Spanish girls to some random tiny disco that was thankfully devoid of Americans but still played almost exclusively American 50's music. It was sort of amusing and quaint and I pulled out my best Fonzie impression with my leather jacket and improvisational coolness. It seems "Grease" and 50's culture is very popular with the Spanish. This disco callously closed at 5 A.M. and we piled into someone's tiny car with four other people and drove to another disco, "Revolver," which was heavy metal in theme. It is hard to believe but there were people in line and paying U.S. $10 cover charge to get into this place at 5:45 A.M!

&nbsp&nbsp&nbsp&nbsp&nbsp I was thoroughly enjoying myself with this American girl named Elizabeth who was studying in Madrid and hailed from Conneticutt. We had a good talk and she confided in me some of her family problems. We danced the whole night and it was only because of her that I was able to gain entrance to this late night disco and we did not even have to pay the cover charge (these kind of places always concerned with keeping many available women in the place)! Everything was going my way: fun dancing, cool hangouts in Madrid, a beautiful young women on my arm. Yes, life could be worse! We danced and did other things until 7:30 A.M. at which time we were both drenched with sweat and permeated with the smell of cigarette smoke. Marty had been busy striking out bitterly with another American and he sulking in the corner he prompted us to leave and to give in to utter exhaustion. When we ascended from the disco upto the street, it was past dawn and painfully bright outside. I walked Elizabeth home, and Marty and I made it home by 8 A.M. and collapsed into our beds, not to be seen again until 5 the next evening. I feel pleasantly fatigued from the previous night's exertion and am thoroughly relaxed in my travels. This is in direct contrast to my semi-desperate frantic traveling when I first arrived in Europe. I was always nervous and stressed out and alone.

&nbsp&nbsp&nbsp&nbsp&nbsp Money is getting to be tight, but Spain is relatively cheap and uncomplicated for the budget traveler. Blessedly, accomodatiions are commonplace in the form of cheap pensions. The benefits of not having to scrounge and search high and low for a place to stay cannot be stressed enough. We have had excellent sit down meals in Spain for about U.S. $10 a person. Although the Spanish trains usually suck, with planning we have been able to take the modern "Talgo" trains. Couchettes in Spain are either outrageously expensive or non-existent and therefore our trip from Granada to Geneva (around a day and a half) with two brief stops and no bed. It could get real ugly.

&nbsp&nbsp&nbsp&nbsp&nbsp I enjoyed the famous "Prado" museum in Madrid. I have since developed an interest in the life and art of Goya, whose paintings feature so prominently in the Prado. It is an interesting transition in his art from pleasant themes to the gloomy and dark themes of his later works. I especially liked the "Execution of the Rioters" and "Saturn Devouring His Son." Commissioned to paint an aristocrat's wife, Goya ended up seducing her and painted two different portraits of her, one naked and one clothed. Goya kept the first and delivered to the aristocrat the second.

&nbsp&nbsp&nbsp&nbsp&nbsp Seeing Picasso's "Guerrnica" was somewhat anti-climactic. The piece of art has always been important to me and has hung on my wall for over two years. But here in Madrid, it is more of a political statement than anything else. Picasso wanted the painting absent from Spain until democracy returned and it arrived from it's long exile in New York in 1981 and now has a whole building to itself. The piece is still so controversial that one has to pass through a metal detector and bomb-proof glass surrounds the huge mural. The other rooms in the building show early sketches of the work in progress.

&nbsp&nbsp&nbsp&nbsp&nbsp For some reason, I enjoyed the Prado more than other similar museums, such as the Louvre or British museum. Perhaps because it was more modest and manageable.

&nbsp&nbsp&nbsp&nbsp&nbsp There is a huge university in Madrid and here in "University City" it is hard to walk one block without encountering a group of students strolling amiably by arm in arm. There is a rediculously large number of students who live in this area.
&nbsp&nbsp&nbsp&nbsp&nbsp Marty has been shut down brutally in terms of romantic liaisons and is sullenly nursing a bruised ego. His latest attempt was with a teenage popcorn vendor positioned outside our pension whom he was going to walk home with after her shift ended. He was not gone ten minutes on this latest attempt before he was back in our room, morosely announcing rejection. Now he wants to immediately speed all the way to Zurich for the sole reason of following up his earlier contact with that San Diegan woman we met briefly in Nice. I am thinking this reeks of desperation and that never has one been willing to travel so far on so little encouragement for the sake of female contact. Hopefully, I can persuade him to go to Andalucia and not waste the little time we have remaining here.
23 October, 1991
&nbsp&nbsp&nbsp&nbsp&nbsp We have been in Granada for two days and are preparing for the 30 hour train ride from Granada to Geneva. This trip would be bad enough under normal conditions but I have a cold as well! In three days, I will be back in Southern California. I keep reminding myself of this fact during the long, long train rides and final flight from Frankfurt to Los Angeles. I miss home.
&nbsp&nbsp&nbsp&nbsp&nbsp Granada is in the south of Spain, near the Mediterranean Sea. This area is referred to as Andalucia and has a separate cultural identity. The area has a string Muslim influence from the long years of Moorish rule. The area is poorer and the bull fights and flamenco are important. The difference between Northern and Southern Spain is a bit analogous to that of Italy. The landscape is arid and hilly and reminds me of the American West. Indeed, a couple of western cowboy movies have been filmed in Andalucia.
&nbsp&nbsp&nbsp&nbsp&nbsp Granada was the last great city of the Moors before Spain was totally Christianized. When the Catholics retook the city in 1492 they burned almost everything Moorish to the ground. However, today the "Alhambra" survives resplendent as a testament to the skill and beauty of Moorish architecture and it is quite a treasure. Perched on a hill above Granada, the Alhambra is a collection of battlements, lush gardens and beautiful palaces. Most of it is traditional Muslim architecture and is unique to me on this trip. The change is welcome since I have seen so much traditional "western" architecture and so little else. The whole structure is a kind of adobe red with ornate Arabic writing carved into the buildings everywhere. The use of running water is especially clever and consists of efficient little streams running down little gutters in the railings and stairs. The gardens are huge, fecund, and perfectly manicured. The whole structure is a masterpiece. We visited the Arab quarter of the town on the hill opposite the Alhambra and although it was outwardly Spanish, one could see the Muslim influence in terms of the architecture and the layout of the streets. This will be as close as I will get to any kind of Islamic culture as I will get on this trip. To me, it was worth traveling so far south, even if I am sick as a dog.
&nbsp&nbsp&nbsp&nbsp&nbsp It is good to get this far south in Spain, Marty's bitching notwithstanding. The towns are smaller, and even to me, the Spanish sounds, smells, and foods are different. There is definitely more color to the people - with all the Jews, Moors, Gypsies, etc. We got excellent accommodations for a very reasonable price and our hotel even had a coke machine that would shout "Gracias!" at you after a purchase.